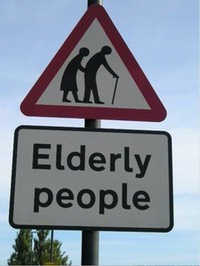 RESPECT FOR SENIOR CITIZENS
When Pat and Shirley Callaghan of Irvine Villa were touring England, they came across this road sign in the Cotswolds. It is heart-warming to know that some communities would go to this extent to help protect their elderly residents or visitors. Maybe our Municipality should follow their example? Hopefully the person taking up the rear is a spouse, friend or carer, and not a pick-pocket in a raincoat!!
THE SMIDTSDORFFS RENEW THEIR VOWS!
Lynné and Mike Smidtsdorff recently celebrated their 40th wedding anniversary, and renewed their marriage vows in their church. This was followed by a scrumptious tea party.
Among the many family members and guests was a contingent of MHA staff, including those who posed for a "photo opportunity". Congratulations, Lynné and Mike; the MHA family wishes both of you many more happy years together.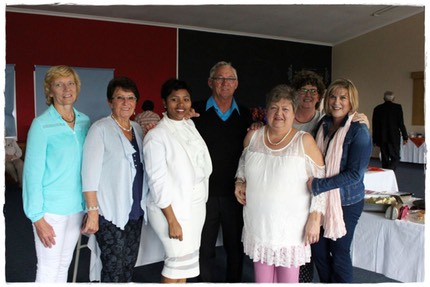 Pictured above are Susan Bosch (Aldersgate Manager), Gillian le Roux (Professional Nurse/Counsellor), Noluthando Khunjuzwa (Financial Administrator), George Bezuidenhout (Maintenance Manager), LynnéSmidtsdorff (Wesley Gardens Manager, and the bride!), Jenny van Niekerk (Cassia Gardens Manager) and Sandra Cornwell (Admin Manager)
CASSIA GARDENS' EXTENDED HALL: OPENING FUNCTION
At the request of residents, and with their input on design and finishes, the existing hall has been extended, to incorporate a separate kitchen and a library, and the storeroom has been relocated. This has resulted in a significant increase in "entertainment space", so much so that 72 Cassians and special guests were treated to a wonderful spitbraai supper on Friday 8 September.
Rev George Irvine, MHA's Founder President, who officiated at the opening of Cassia Gardens in 1985, was invited to cut the ribbon. It was a lovely occasion, full of fun, fellowship and fabulous food!
WORLD ALZHEIMER'S DAY
MHA in Gauteng/Northern Province was recently hosted on SABC 3's Expresso programme, and a video clip of their Prim Villa facility was included. We invite you to view the inspiring video, via this YouTube link: https://www.youtube.com/watch?v=PB3c05t3iAE
OUR CENTENARIAN LOUISE GALPIN
Louise Galpin, who celebrated her 100th birthday on 2 September, has been part of the MHA family for twenty years, firstly at Epworth Close from 1997 to 2014, and for the past three years she has lived at Maranatha.
Louise was born in Cape Town, but at the age of nine she went to live in Dordrecht where she spent three happy years (where she visited many farms, experienced snow and learnt to speak Afrikaans), before returning to Cape Town. She left school before Matric, did a shorthand and typing course, and then she worked in the city (those were the days when it cost tuppence (2 pennies) to take the tram from Sea Point into the centre of Cape Town!)
Louise met Jack Galpin before WWII, and when war was declared he enlisted and was sent to North Africa, but was later stationed in Simonstown. In 1943 Louise married Jack, and they came to live in Port Elizabeth, where he practised law. He passed away in 1983. They had two children and now, spread between the USA and London, she has six grandchildren and nine great grandchildren. 
"Life is not a rehearsal" sums up Louise's attitude to a very active life. She was a very keen golfer, and her nickname was "Galloping Galpin" because of her brisk pace around the course.  She enjoyed golf up until her mid 90's. Fortunate to have a very sharp mind, she was also able to play excellent bridge into her 90's.  Following golf, tennis, cricket and rugby on TV was and still is a strong interest.  Swimming has been her passion all her life; when playing golf at Humewood, she often had a quick swim in the sea between ending her round of golf and the prize-giving!
Congratulations, Louise!! The MHA family acknowledges this wonderful milestone, and your positive attitude to life.
NATIONAL WOMEN'S DAY CELEBRATED IN STYLE!
On 9 August 2017 there was no lazy public holiday at home for the wonderful, dedicated staff at our CP Bradfield Frail Care Home. They were on duty, doing what they always do so well, but they dressed up for the occasion. In this unique way they brought meaning and some fun to their day, but they also brought colour and joy into the lives of the residents there. It was a special day, and the staff made a difference, in every way!! Well done, and thank you....we are proud of you.
NEW BRAAI FOR ANNESLEY GARDENS/SHEARITON
With some financial assistance from Head Office, an impressive new braai facility and extension to patio paving has been built, designed to residents' specifications. They recently held their first braai in their lovely new braai area. In the past they used a portable drum-type braai, so this is a giant leap into the 21st century! The monthly braais held in the MHA villages are well attended, and a keen sense of community and fun, and even some cooking skills near " Ultimate Braai Master" standard, are evident whenever and wherever they meet!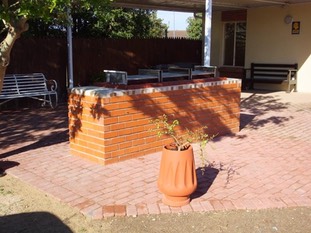 FLORAL BEAUTY
Gary and Pat Loftie-Eaton of Cassia Gardens are avid gardeners, and have a magnificent display of Cymbidium Orchids in pots and troughs on their back patio. The blooms, which are at their best between June and August, are much admired by residents and visitors.