DAVID GARRETT: THE PASSING OF A PIONEER
17 December 2017
The MHA family mourns the passing of one of its pioneers, David Garrett, who died on 17 December 2017, at the age of 84.
During his working career David was highly respected in the financial services industry, and in the business world generally. He was invited to join the MHA Board in 1993, and he brought with him a broad range of business skills and excellent leadership qualities. When Bob Zeiss retired as Chairman in 1996, David took his place, and continued to serve on the MHA Board in that capacity until he resigned in 2007.
Under his skilled leadership MHA witnessed increasing growth and expansion, even though during that time the organization went through unprecedented financial challenges. Together with staff and fellow Directors he kept the ship afloat, off the rocks, and eventually forward into new and calmer waters.
The MHA family will keep Pat, and the whole family, in their thoughts and prayers, at this sad and difficult time.
BRINGING JOY TO SOME ELDERLY FOLK IN GQEBERA TOWNSHIP
12 December 2017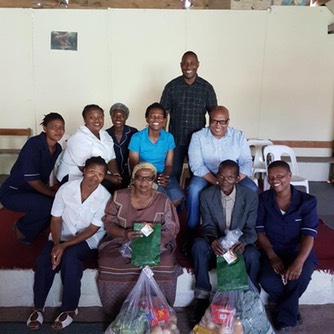 Each year in December MHA hosts a gathering in celebration, in a church hall in Gqebera (Walmer) township. Present this year were many of the sixty beneficiaries of our Nikithemba outreach project, together with the five wonderful carers and their supervisor, our General Manager and three Board members. Each beneficiary or a representative (many arriving with a wheelbarrow, to act as a "delivery service"!) received a lovely hamper of food to take home, courtesy of our catering service providers, Eastern Province Catering, and a thoughtful gift package from residents of Cassia Gardens. In addition, the caring staff were handed a monetary gift donated by generous residents of Aldersgate.
The joy on the face of each recipient was a privilege to witness, and MHA is proud of the Nikithemba project, now in its thirteenth year. Nikithemba in isiXhosa means "To give hope", and MHA believes that this outreach project does just that. During the year many communities within MHA Villages reach out to the beneficiaries, by way of parcels containing consumables and clothing. When you love, generosity is everywhere!!
In the photograph are two beneficiaries, our five carers (in navy or white uniforms), their supervisor Simpiwe Given Mpaliso (standing at the rear), and Board members Thuthuka Songelwa and Odwa Mtati.
ON THE ROAD TO FURTHER SUCCESS
8 December 2017
 In recent weeks some of our Housekeeping ladies underwent training to become Careworkers, as they wanted to enhance their careers. Our recently retired Nursing Services Manager (pictured, together with General Manager Hein Barnard, with the graduates) conducted the training inhouse, and in late November the proud ladies completed their course, and were handed certificates.
Well done, ladies!! You took advantage of an opportunity, and we look forward to observing your future growth as you care for residents in our two frail care units.
OUR NEW NURSING SERVICES MANAGER!!
8 December 2017

As a result of Matron Margie Kampman taking early retirement as at end-November 2017, MHA has appointed Matron Sanet Marx as her replacement. She commenced duties on 1 November.
Sanet comes from a Tarkastad farming family, and attended Cradock High. After Matric she went off to au pair in Italy for a year (adding Italian to her fluency in English, Afrikaans and isiXhosa!). She then came to PE in 1994 and enrolled at the Sharley Cribb Nursing College in Park Drive where, after four years' study, she obtained her Nursing diploma.
In 1998 Sanet started work in one of our Municipal clinics, focusing on community health nursing but specializing in HIV management and treatment. In 2011 she was approached to join the St.Francis Hospice team, where she was involved in palliative care, education and training (the latter including distance learning through North West University). She believes that everything happens for a reason; her choice of career, her move to Hospice, and now to MHA, is the fruit of that belief! Her mission is simple, yet profound: never allow a resident to feel invisible.
Sanet has been married to Riaan for 20 years, and they have two daughters, Esté and Sanri.
Welcome on board, Sanet!!
BOB ZEISS (19/02/1929—02/10/2017): GOD'S AMBASSADOR!
Bob Zeiss, one of the founding fathers of MHA in PE, its second Chairman, and latterly a resident at Cassia Gardens, has sadly passed away.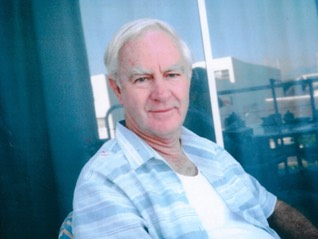 At the funeral service on 6 October, Rev. Dr Bruce Woolard referred to Bob as God's Ambassador, and how fitting that title is. Bob was a devout Christian, a committed Rotarian, a loving family man, someone who threw himself into community roles in the service of others, and he was someone who touched the lives of so many, across generations.
Rev. Woolard expanded on Bob's character, saying that he was an optimistic man who always had a positive influence, he loved people, he was a man of vision in heart and mind, he was both tenacious and resilient, and possessed a lovely sense of humour.
The MHA family mourns the loss of a great man, and we extend condolences to his wife Joyce, to his family, and to those he loved and served, and who loved him in return. Bob and Joyce were blessed to have celebrated their 65th wedding anniversary on 27 September.
RIP, Bob.
WHILE YOU WERE SLEEPING!!!
This porcupine was recently caught on the Irvine Villa security camera, trying to gain access through the front gate at 03h53!!
The Herald recently reported other sightings in the suburbs, and local wildlife experts are of the view that porcupines are probably moving in during the night from the Baakens Valley, looking for food.
CELEBRATING CHRISTMAS AT ALDERSGATE!
27 December 2017

About 20 Aldersgate residents who were not going out to family or friends on Christmas Day got together for a celebratory "bring, braai and share" lunch in their hall. Tables were beautifully decorated, there were lots of chefs around the braai, and there was a wonderful buzz of fellowship and laughter.
This is just another fine example of living in community, which is evident across the MHA family in so many ways.
Some events are organized by a Fellowship Committee or Group, others just happen spontaneously, but there is always a sense of enjoyment and appreciation. This particular event was started by Jeanne Speed, one of the original Aldersgate residents about 20 years ago, and it has become a tradition.  
MAKING A DIFFERENCE
A load of redundant or replaced Maranatha Frail Care equipment was recently donated by MHA to Gelvan Park Frail Aged Home.
The smile on the face of their Nursing Manager, Make Fadzanai (pictured), says it all!! He asked MHA's GM Hein Barnard how it was possible to donate goods and then also pay for the transport. Hein's easy answer was: "Because MHA wants to make a difference in the lives of the needy"!
MHA has a heart, and we are proud that we could make a difference.
Click here to read the thank-you letter from Deidre Burjins, Secretary of the Board of Galvan Park Frail Age Home.
"SPRING DAY" SURPRISE
Earlier this month a large group of children from St. George's Preparatory School descended on Cassia Gardens, and distributed flowers to the residents.
This lovely gesture brought so much joy to the residents, and a burst of colour. Thank you, boys and girls of St. George's Prep!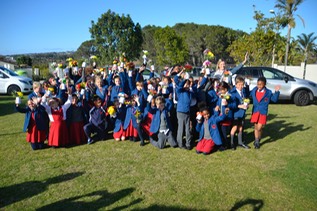 RESPECT FOR SENIOR CITIZENS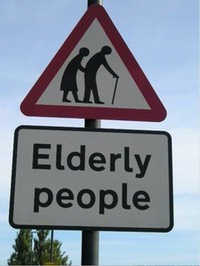 When Pat and Shirley Callaghan of Irvine Villa were touring England, they came across this road sign in the Cotswolds. It is heart-warming to know that some communities would go to this extent to help protect their elderly residents or visitors. Maybe our Municipality should follow their example? Hopefully the person taking up the rear is a spouse, friend or carer, and not a pick-pocket in a raincoat!!
THE SMIDTSDORFFS RENEW THEIR VOWS!
Lynné and Mike Smidtsdorff recently celebrated their 40th wedding anniversary, and renewed their marriage vows in their church. This was followed by a scrumptious tea party.
Among the many family members and guests was a contingent of MHA staff, including those who posed for a "photo opportunity". Congratulations, Lynné and Mike; the MHA family wishes both of you many more happy years together.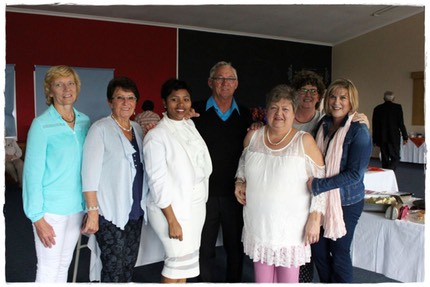 Pictured above are Susan Bosch (Aldersgate Manager), Gillian le Roux (Professional Nurse/Counsellor), Noluthando Khunjuzwa (Financial Administrator), George Bezuidenhout (Maintenance Manager), LynnéSmidtsdorff (Wesley Gardens Manager, and the bride!), Jenny van Niekerk (Cassia Gardens Manager) and Sandra Cornwell (Admin Manager)
CASSIA GARDENS' EXTENDED HALL: OPENING FUNCTION
At the request of residents, and with their input on design and finishes, the existing hall has been extended, to incorporate a separate kitchen and a library, and the storeroom has been relocated. This has resulted in a significant increase in "entertainment space", so much so that 72 Cassians and special guests were treated to a wonderful spitbraai supper on Friday 8 September.
Rev George Irvine, MHA's Founder President, who officiated at the opening of Cassia Gardens in 1985, was invited to cut the ribbon. It was a lovely occasion, full of fun, fellowship and fabulous food!
WORLD ALZHEIMER'S DAY
MHA in Gauteng/Northern Province was recently hosted on SABC 3's Expresso programme, and a video clip of their Prim Villa facility was included. We invite you to view the inspiring video, via this YouTube link: https://www.youtube.com/watch?v=PB3c05t3iAE
OUR CENTENARIAN LOUISE GALPIN
Louise Galpin, who celebrated her 100th birthday on 2 September, has been part of the MHA family for twenty years, firstly at Epworth Close from 1997 to 2014, and for the past three years she has lived at Maranatha.
Louise was born in Cape Town, but at the age of nine she went to live in Dordrecht where she spent three happy years (where she visited many farms, experienced snow and learnt to speak Afrikaans), before returning to Cape Town. She left school before Matric, did a shorthand and typing course, and then she worked in the city (those were the days when it cost tuppence (2 pennies) to take the tram from Sea Point into the centre of Cape Town!)
Louise met Jack Galpin before WWII, and when war was declared he enlisted and was sent to North Africa, but was later stationed in Simonstown. In 1943 Louise married Jack, and they came to live in Port Elizabeth, where he practised law. He passed away in 1983. They had two children and now, spread between the USA and London, she has six grandchildren and nine great grandchildren. 
"Life is not a rehearsal" sums up Louise's attitude to a very active life. She was a very keen golfer, and her nickname was "Galloping Galpin" because of her brisk pace around the course.  She enjoyed golf up until her mid 90's. Fortunate to have a very sharp mind, she was also able to play excellent bridge into her 90's.  Following golf, tennis, cricket and rugby on TV was and still is a strong interest.  Swimming has been her passion all her life; when playing golf at Humewood, she often had a quick swim in the sea between ending her round of golf and the prize-giving!
Congratulations, Louise!! The MHA family acknowledges this wonderful milestone, and your positive attitude to life.
NATIONAL WOMEN'S DAY CELEBRATED IN STYLE!
On 9 August 2017 there was no lazy public holiday at home for the wonderful, dedicated staff at our CP Bradfield Frail Care Home. They were on duty, doing what they always do so well, but they dressed up for the occasion. In this unique way they brought meaning and some fun to their day, but they also brought colour and joy into the lives of the residents there. It was a special day, and the staff made a difference, in every way!! Well done, and thank you....we are proud of you.
NEW BRAAI FOR ANNESLEY GARDENS/SHEARITON
With some financial assistance from Head Office, an impressive new braai facility and extension to patio paving has been built, designed to residents' specifications. They recently held their first braai in their lovely new braai area. In the past they used a portable drum-type braai, so this is a giant leap into the 21st century! The monthly braais held in the MHA villages are well attended, and a keen sense of community and fun, and even some cooking skills near " Ultimate Braai Master" standard, are evident whenever and wherever they meet!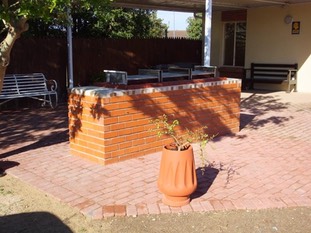 FLORAL BEAUTY
Gary and Pat Loftie-Eaton of Cassia Gardens are avid gardeners, and have a magnificent display of Cymbidium Orchids in pots and troughs on their back patio. The blooms, which are at their best between June and August, are much admired by residents and visitors.